Briggs and Stratton Standby Generator 
(800)779-3848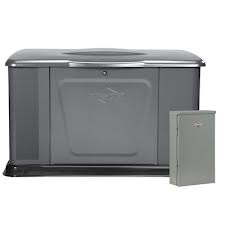 RCS Electrical Services is your Briggs and Stratton standby generator expert. Contact us for all your generator needs.
Briggs and Stratton produces a very good generator.  Their engines are superb, and are very easy to install, repair, and maintain. They are a relatively new player in the standby generator market, but they bring lots of great technology with them.
One thing I love about their standby generator program is their transfer switch technology.  They really have a great load control program.  Load control is the technology that allows generators to know when they are carrying too much load.  Through their transfer switch, they are able to disconnect certain large loads for a discrete amount of time. Sometimes they may disconnect your stove for a few milliseconds, and you don't even notice, but it allows the generator to work well within its factory parameters, not exceeding its capacity or rating.
If you wish to buy a new Briggs and Stratton standby generator click here.