Electric Car Charger Installation
(800)779-3848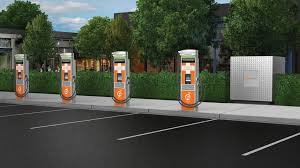 Electric Car Charger Installation. Click Here To Request Installation Services
RCS Electrical Services is your electric car charger installation expert. From ChargePoint charge station installation, Tesla electric car charger installation, SemaConnect EV charger installation and others, contact us for all your EV charging installation needs.
Click Here To Request Electric Car Charging Station Installation Services. 
Electric Car Charging Station Installation Cost For Residential Applications
For most Level 2 electric car charging station installations, the cost will be $1999.00. This cost includes all labor, material, and the EV charger.
The installation site must be within two feet of an existing indoor electrical panel, and the electrical panel must have room for at least one double pole circuit breaker. We recommend that the electrical services have a capacity of at least 200 Amps. If the technician needs to climb in the attic, work in crawling spaces, penetrate concrete walls, penetrate any type of interior wall, or increase the distance described above, the cost will increase.

Permit charges, if any, are not included in this cost.
Four Reasons To Install Electric Car Chargers At Your Business
Offering EV charging shows good will towards your customers, who may in turn stay longer and buy more services or product from you.
EV charging stations appear on Google maps, which will attract electric vehicles looking to charge. While charging their vehicles, EV drivers can become new visitors and customers of your business.
Business can offer free or subsidized electric car charging as a perk to employees.
In addition to your current business, you can have added revenue from the sale of electricity to EV drivers.
ChargePoint Residential EV Charger Installation
This Level 2 EV Charging Station produces up to 32 Amps and can add 7.6 KW of charge to your electric car per hour. Although some versions of this charger can be installed outdoors, we recommend indoor installation whenever this is possible. 
Click Here To Request Installation For This ChargePoint EV Charger
Level 2 Electric Car Charger Installation
Level 1 charging stations will top off a normal electric car in 9-12 hours, where a standard Level 2 charge station will charge the same vehicle in 3-4 hours.
Level 2 charging stations operate on 240 volts, as opposed to Level 1 stations which charge only at 120 volts.
Level 2 charging stations can transfer 7.6 KW-11.5 KW to your car every hour they are plugged in. These stations require bigger sized breakers and electrical conductors so they can transfer power more rapidly to your EV batteries.
Although these charges cost a bit more money, they are worth it considering the shorter amount of time they take to charge your vehicle. 

Tesla Electric Car Charger Installation Cost
Tesla has a special Wall Connector, which is the fastest way to charge a car at home. Simply plug it in when you come home at night, and the car should be fully charged in the morning.
This charger also has the ability to share the existing power supply with four other chargers. If you have more than one Tesla at home, this feature makes your installation less costly
The Tesla Level 2 charger cost $1800.00 to install. This includes the charger with an eight foot cord, additional materials, and installation labor. This price does not include permit which may add to the total cost.
Fill The Form Bellow To Request An Installation
Fill The Form Below To Request EV Charger Installation