Cape Coral Landscape Lighting Installation And Lanai Lights Installation And Repair
(239)656-2609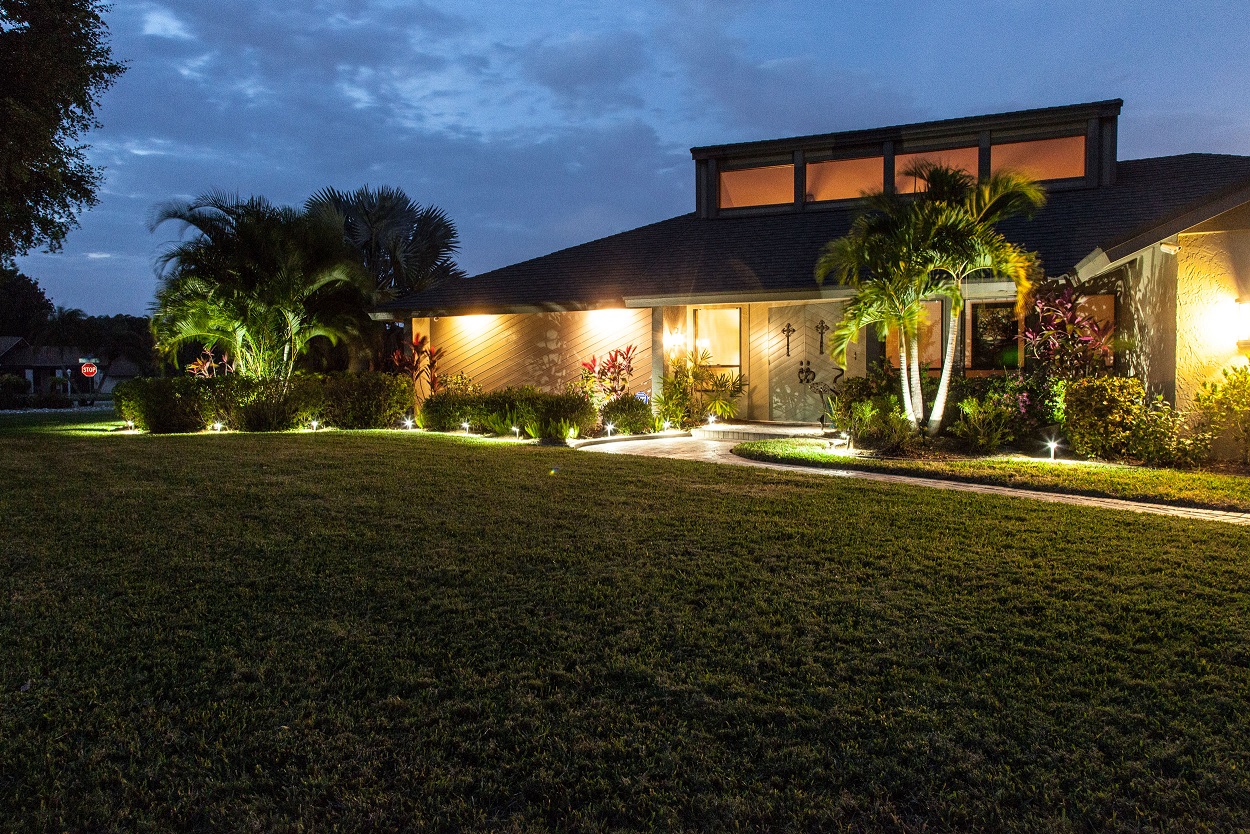 Cape Coral Landscape Lighting And Outdoor Illumination Design Installation And Repair. Click Here To Request Installation Service Today.
Cape Coral Lanai Lights Installation
Lanai light installation will make your lanai a hit with friends and family.
Make your lanai a gathering place for all your night time social events.
You can dim the soft LED lights for a more intimate mood for those moments when you can do without the glare.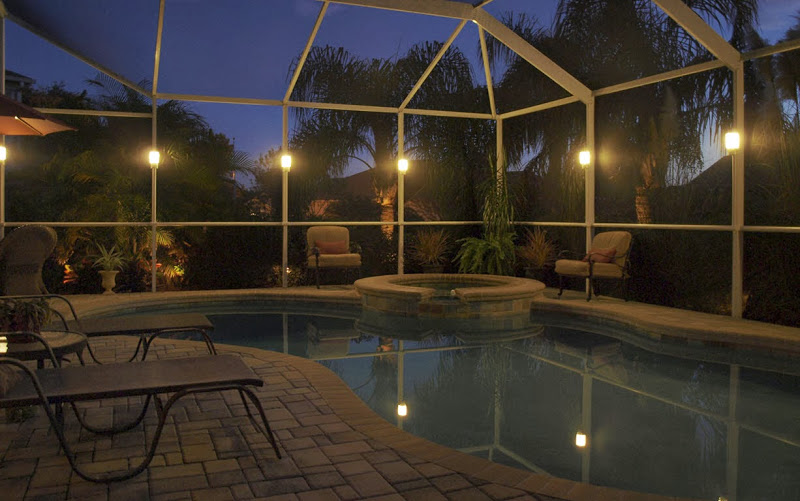 Cape Coral Lanai Lights Installation, and Lanai Lighting And Outdoor Illumination Design Installation And Repair. Click Here To Request Installation Service Today
Cape Coral landscape lighting specialists can give your beautiful landscaped yard, the outdoors illumination treatment it deserves. With landscape lights Installation your outdoors can be even more beautiful at night than it is during the day.
Contact us to learn how how we can turn your outdoors into an enchanting night scene.
Click here to make a service request for landscape lighting installation!
Cape Coral Landscape Lighting And Path Illumination Installation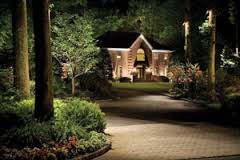 Down Lighting Technique Utilized To Illuminate Driveway. Click Here If To Request Landscape Lighting Installation.
You may not have given much thought to landscape lighting before. But this added feature can bring many great benefits to you and your family. You will feel safer, with a sense of well being, every time you approach your home at night. Soft and gentle lighting will welcome you after a long day at work, or just coming home from a night out.
Landscape lighting enhances the look and feel of your home at night. It gives your home a unique curb appeal at night, and shows from the street as more inviting, welcoming and friendly.  Landscape lighting also deters those who have bad intentions and like to take advantage of the dark.
At night your property can be showcased; beautiful, vibrant, and alive, surrounded by an aura of soft illumination.
Your home can be set apart from those other homes in your neighborhood. They stand dark and ominous looking at night, as your home stands out with a signature of its own. You will have a feeling of happiness as you come home at night, with a soft and gentle glow welcoming you in.
Your friends will feel secure and safe as they come visit you at night. They will have no problem find your house, as they will be welcomed by the soft radiance of landscape lighting.
Read more about some of the different landscaping lighting techniques we could use at your request.
Cape Coral Landscape Lighting With Down Illumination Techniques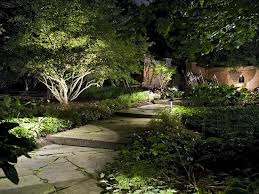 Down Lighting Is One Of My Favorite Lighting Techniques. You Will Be Pleased With The Results. Click Here To Send Us A Service Request.
Down lighting is one of my favorite way to Illuminate the landscape.  The lighting effect comes from above, so it gives a very natural feeling when you are exposed to it.
Down lighting can be achieved by hanging light fixtures high up on your trees. They will cast a very soft light on the grounds, with very dramatic gentle shadows of the tree limbs reflected down below.
Your trees will also irradiate this light from their leaves. The leaves reflecting this light will acquire a glow of their own, and defuse that soft gentle light throughout your night time outdoors.

Cape Coral Landscape Lighting Installation With Up Illumination Techniques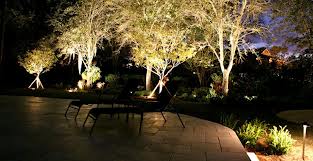 Dramatic Nights capes Scenery Can Be Achieved Through Up Lighting Installations. Click Here To Request An Appointment With One Of Our Outdoor Lighting Technicians.
Up lighting is just so dramatic. We can use wide angle lighting fixtures that can illuminate large trees from the ground up.  These light fixtures bathe the entire tree in their light. The trees then will come alive and reflect this light back into your nightscape, creating beautiful indirect illumination throughout.
When up lighted, trees appear to irradiate their own light, as if they themselves were the source of illumination. This technique works well with large trees, but it also lends itself for ones that are tall and thin, such royal palm trees.
Path Lighting Installation And Walkway Illuminating Techniques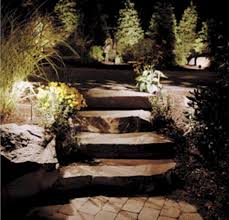 Path Lighting Is An Important Aspect Of Landscape Illumination, As Well Illuminated Paths Provide Safe And Secure Walkways. Click On This Image To Request Service.
If you are concerned about hazards or obstacles at night, path lighting is one of the best ways to handle these fears. We can use gentle soft pathway lighting fixtures, that can guide your steps at night.
It may be fairly easy for you to navigate around your own property at night, but your visitors may not feel as secure in a dimly lighted walkway. Install some pathway lighting, and you will not only make your property safer at night, but also it will more beautiful.
Highlighting Textures or Unique Features
If you have statues, outdoors art work, or unique textures on walls or trees, you will be well served employing the use of back lighting.
The technique of back lighting is achieved by having a light fixture turned away from the observer, and facing directly a specific thing you may want to highlight.
This is another technique we could use to highlight those special objects whose beauty would go otherwise unnoticed at night. 
Request a Cape Coral Landscape Lighting Consultation Today!
Cape Coral Landscape Lighting Experts Also Serve The Area Indicated Below.
| | |
| --- | --- |
| Alva, Boca Grande, Bokeelia, Bonita Springs, Buckingham, Cape Coral, Captiva, East Dunbar, Estero, Fort Myers, Fort Myers Beach, Fort Myers Villas, Gateway, Hancock, Iona, Lehigh Acres,  | Matlacha, Miromar Lakes, North Fort Myers, Page Park, Pineland, Pine Island Center, Punta Rassa, Sanibel, San Carlos Park, St. James City, Suncoast Estates, Tice, Waterway Estates, Whiskey Creek |
(239)656-2609