Generator Installation Service Repair Maintenance and More
(800)779-3848
When Power Goes Out Be Prepared With A Standby Generator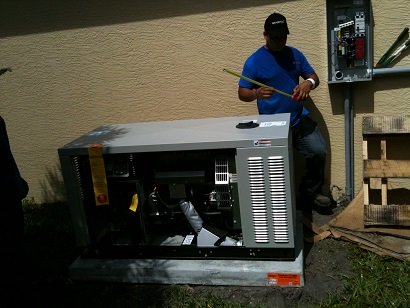 RCS Electrical Services is your generator installation service repair maintenance expert. From 10Kw to 1000Kw contact us for all your generator needs.
Click here to make a generator installation consultation request
And click here if you are in need of generator service, repair, or maintenance.
We are certified to do Generac generator installation, Guardian generator installation, Centurion generator installation, Kohler generator installation, Briggs and Stratton generator installation, General Electric generator installation, and others.
We also specialize in Guardian generator repair, Generac generator repair, Centurion generator repair, Kohler generator repair, Briggs and Stratton generator repair, General Electric generator repair, and many other brands of generator repair.
Contact us now if you are in need of generator service, generator maintenance, generator installation, or generator repair.
Estamos aqui en esta comunidad para dar servicio de reparacion, installacion, y mantenimiento de generadores y plantas electricas automaticas. Contactenos para cualquier problema con su generador o planta electrica. Podemos darle asesoramiento tecnico se desea exportar generadores o plantas electricas.
Automatic Standby Back Up Generator Installation Cost. These Prices Include Generator, Transfer Switch and Labor.  Tank or Fuel Installation Is Extra.
11Kw Can power small sized homes with 3-ton or smaller air conditioning units, starting at $12,900.00
13KW Are able to power mid sized homes with AC units smaller than 4-ton, starting at $13,900.00
20Kw Units can power larger homes with air conditioning compressors rated at less than 5-ton, starting price $18,900.00
Larger commercial or industrial generators require onsite visits to determine installation price.
Note: Standard installation price includes the following:
Placement of generator within five feet of electrical meter or main electrical panel.
Provision and installation of manual transfer switch
Provision and installation of new generator
Concrete pad installed at grade level
Gas and Electrical permits are provided at additional cost.
Engineered drawings and load calculations
Note: Fuel tank or fuel connections are extra.
Generator Installation Service Repair And Maintenance: Complete Turnkey Solutions
RCS Electrical Services offers a complete solution for your generator installation. We handle the entire project, so that you have peace of mind in the knowledge that you have a single point of contact for all questions and concerns.  
From purchasing the generator, to handling the concrete base and installing the electrical wiring and fuel line, RCS Electrical Services will handle your project, with integrity and professionalism.
When you hire the big box store to do your project, often times they have no clue what is going on with your installation. They simply don't have any idea about even the simplest things, like how a generator works. This is not the case with us. We are the true experts, who are trained and certified to bring you complete trouble free solutions to your generation installation projects.
Generator Installation Load Calculation
Generator sizing is an important aspect of your installation. Wrongly sizing your generator can negatively impact your project.
A generator that is too big for your application will penalize you twice. Once with a higher up front cost for the equipment, materials and installation cost. An over sized generator will penalize your for its entire service life, levying higher running cost in terms of fuel consumption and maintenance.
A generator that is too small, will disappoint you when it won't operate properly during a disaster and other emergencies.
Once you have filled a load calculation form, your generator installation expert can start the process of specifying your generator by sizing it correctly.
Click here to obtain a FREE generator load calculation
Generator Installation With Guaranteed Peace Of Mind
RCS Electrical Services is committed to the idea of offering drama free and surprise free installations. We not only strive to perform great installations for you, but we also offer great warranty services for your peace of mind.
Our installation comes with a one year labor warranty, and at least three year product warranty. If anything is wrong with our labor for one entire year, we will correct it free of charge to you. 
If your generator fails due to electrical or mechanical reasons during the first three years after installation, we will start a warranty claim process with the manufacturer, and then make the repairs for you at no charge.
Professional Generator Installation Service Repair Maintenance Done With Care, A  Rare Twist
RCS Electrical Services is proud of the level of skilled we have gathered through many years of field experience, coupled with technical training received from generator manufacturers such as Briggs and Stratton, Generac, General Electric, and Kohler.
When you ask us to do your project, you can be assured that we don't take the fact that you chose us lightly. We will work for you employing the best techniques, materials, parts and equipment so that your installation has the quality you and your family deserve and expect from your Lantana generator installation professional.
Our technicians think of each other as being part of a family here at RCS Electrical Services. When we give you a completed project, is like you are also joining our own family, as we will continue to service your generator in the future. Not only you get a professional generator installation, but we do it in a way that shows that we care, and that your family well being matters greatly to us.
Generator Installation Service Repair Maintenance With World Class Customer Service
Your generator installation comes with world class customer services. RCS Electrical Services has done generator installation for two major national retail stores; The Home Depot, and Lowe's. During the time that we installed for these stores, we interacted with many different customers. By having this daily interactions, we learned valuable lessons in customer service.
You now can be the recipient of all the knowledge we have acquired through the years. You will have the benefit of great customer service, without the sticker shock of dealing with a big box store. When you deal with a big box store, you are just a number to them, not an individual, and most certainly not a human being. When you hire us, you become part of our family, and you will be treated as such.
Contact us when you are ready for your generator installation.
(800)779-3848