Jupiter Boat Dock And Boat Lift Repair. Electrical Wiring Power And Lighting
(561)674-9220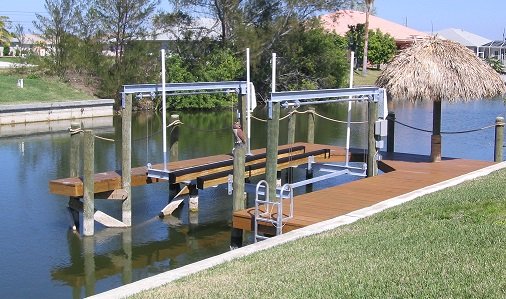 Click Here Now To Request Fast Boat Dock And Boat Lift Electrical Wiring, Lighting, Electric Motor Service.And Much More
RCS Electrical Services is your boat lift wiring expert. Contact us for all your Jupiter boat dock electrical wiring power and lighting. Also for all your boat lift, shore power, underwater lighting, dock lights installation, repair, maintenance, and any other electrical need related to your boat dock or boat lift.
We can also help you if you boat lift motor is stuck or jammed and not working. We can replace or repair your boat lift electric motor, or repair your control system, including GEM Remotes, TEC Remotes, or any other kind of boat lift controls.
RCS can install new LED lights, solar lights, pagoda lights, underwater fish lights, or any kind of lights you wish to install at your boat dock.
For all your new boat dock and boat lift electrical installations, marine electrical repairs, or any other boat dock repair needs in Jupiter Florida, contact us by calling or clicking the link below.
Click here to request service for your dock.
Jupiter FL Dock And Boat Lift Lighting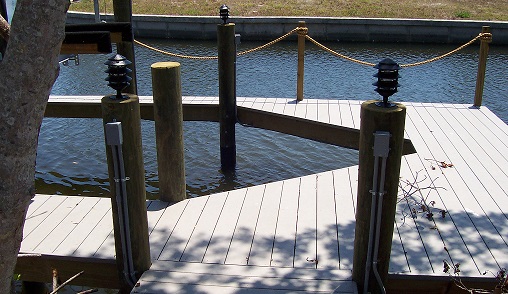 Boat Docks Can Be Down Right Dangerous At Nights Click Here To Request Light Installation For Your Boat Dock
Lights create an environment of safety and security around your boat dock and boat lift areas. It is best to chose lighting that casts illumination downward, away from your eyes while focusing on the floor area. This enhances safety by illuminating your pathway while keeping glare to a minimum.
Solar lights for boat docks is also a new trend in boat dock illumination. We have an array of boat dock solar lights that will cast a soft light on the dock surface, while being gentle on your wallet in terms of up front cost and operating energy use.
Contact us for all your Jupiter boat dock electrical wiring power and lighting needs.
Boat Lift Remote Control Sales Installation Service.
Gem Remotes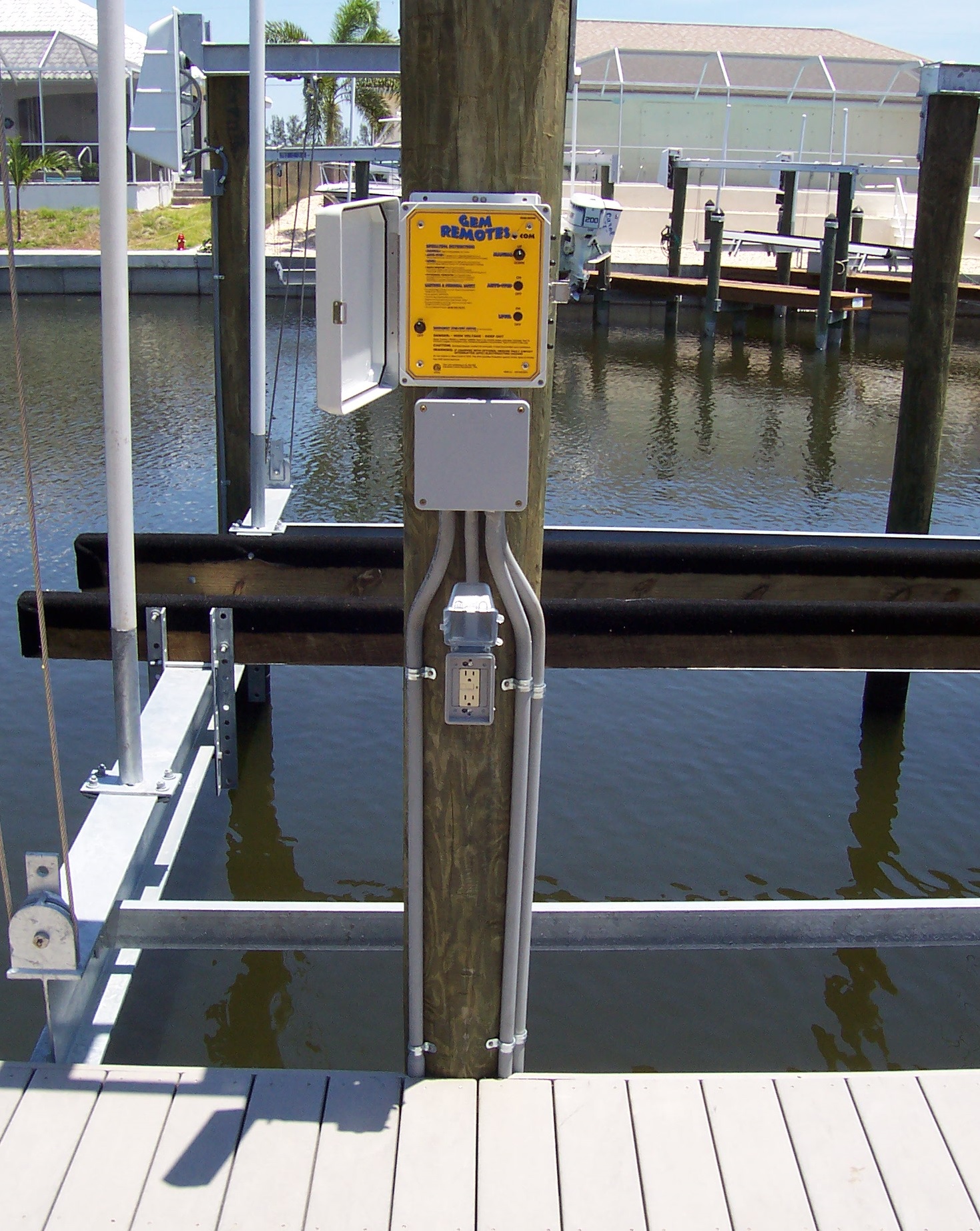 Automate Your Boat Lift With A Gem Remote Control. Operate Your Boat Lift With A Click Of A Button. Click Here To Request Service.
A Remote Control is one of the best things you can do for your boat lift. Adding a Gem Remotes remote control can allow you to lower your boat to the water with one single click of the button. This convenient feature is a life saver, especially during those moments when you are coming out of the water during a storm.
Gem Remotes also can allow you to turn your boat dock lights on with the same remote control button you use to operate your boat lift. This feature can make your arrival at the boat dock at night much safer. One click of the button, and all your boat dock lights will turn on immediately. Now you don't have to arrive at your dock in total darkness.  
Click here now, and order your boat lift remote control now.
Jupiter FL Boat Dock Shore Power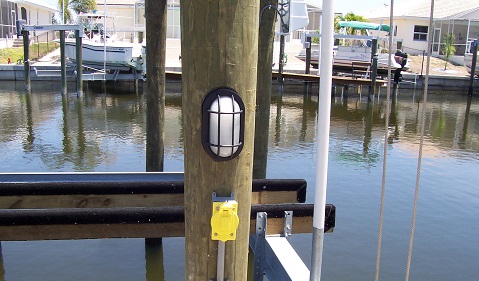 Shore Power Installation Is A Must For Modern Boat Docks. Click Here To Request Boat Dock Shore Power Today.
We install all of our shore power circuit protected by special GFI breakers. We understand the danger associated with shore power, and our technicians take special precautions so that you and your loved ones are safe when connecting your boat to our shore power circuits.
Bad or unsafe electrical installations near or around docks can lead to Electric Shock Drowning or ESD. When people swim around leaky electrical installations, they can be exposed to these stray electrical currents and be electrocuted. This is why we use protective devices such as GFI breakers in every electrical installation we make around boat docks or boat lifts. These breakers can sense when boat or any other vessel connecting to it has faulty circuitry, and it can shut down the electrical power to the vessel before it can leak and be harmful to others.
Be wise and contact our company when you need competent technicians to install your Jupiter Florida boat dock shore power circuits.
More About Unsafe Boat Dock Wiring And Electric Shock Drowning or ESD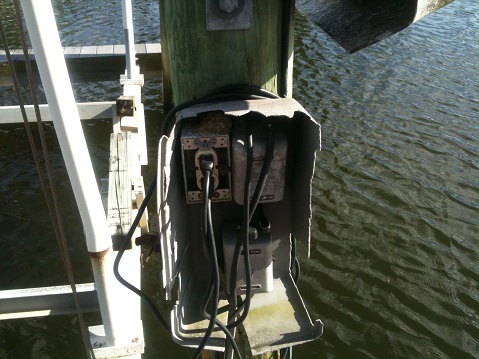 This Is A Faulty Boat Lift Control Box. Anyone Handling This Device Could Be Easily Electrocuted.
Unsafe or obsolete wiring around boat docks and boat lifts are not only a nuisance, but a life threatening hazard. The image above is a clear example of the type of wiring that ought not to be found around or near your boat dock or boat lift.
If you are using extension cords to operate your boat lift, not only you are putting yourself at risk of electrocution, but you can potentially harm other people around you as well. Electric Shock Drowning or ESD refers to drownings caused by electrocution provoked by faulty electrical wiring that leak into the water. These leaking electrical currents can paralyze and disable a swimmer near it, cause him/her to lose control of arms, legs, and other muscles, and succumb to drowning. 
Upgrade, repair and replace all electrical wiring around your boat dock or boat lift that does not appear to be working in a safe manner.
Contact us for all electrical repairs and installations for your boat dock and boat lift.
Safe And Trouble Free Electrical Installation For Your Jupiter Florida Boat Dock And Boat Lift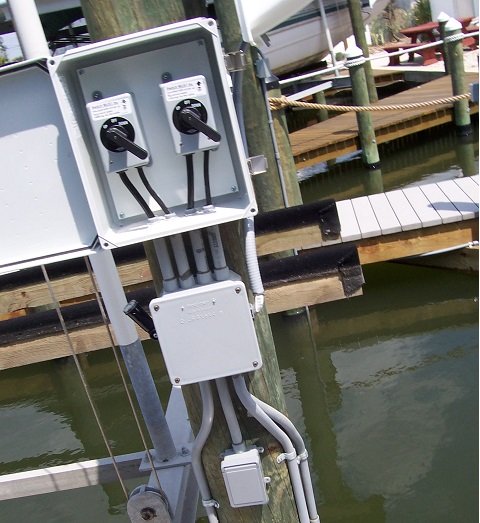 A Safer And Cleaner Installation For Your Jupiter Boat Lift Electrical Wiring Installed By RCS Electrical Services. Click Here To Request Service Now
Compare this image with the one just above it. This installation is designed to do the same thing as the electrical wiring depicted before it. The only difference is that this boat dock wiring is safe and performs its functions correctly.  All the wiring connecting to this boat dock is wired to special GFI breakers designed to protect human life in the case of accidental contact with the water.
Click here to request service for all your boat dock and boat lift electrical wiring, power, and lighting needs, by your best Jupiter Florida marine electrician.
Your Jupiter Boat Dock Electrical Wiring Power And Lighting Experts Perform Installations In All The Areas Below:
Palm Beach County Florida
Jupiter Inlet District, Ocean Parks, Sea Palms, Bella Vista, Jupiter Yacht Club, Jupiter Beach, Ocean Walk, Xanadu, Sea Rise, Olympus, Seabrook Place, Jonathans Landing Golf Club, The Club at Admiral's Cove, Admiral's Cove, Admirals Cove, Jonathan's Landing Golf Club, Frenchmans Creek, Frenchman's Creek