Standby Generator Advantages and Disadvantages, For Homes And Businesses
  (800)779-3848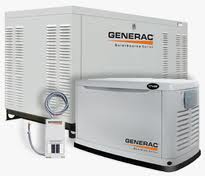 Click Here If You Want To Buy A New Standby Generator
It is a good idea to review the standby generator advantages and its disadvantages before making a final decision in terms of purchasing a generator for your home of place of business.
Click here if you need an in-home generator consultation.
Standby Generator Advantages
Fast, automatic delivery of emergency power, after power lines failure.
Allows you to maintain comfort level at home or work during emergencies.
Ensures that you may keep adequate food supply and water during extended power outages.
Allows you to continue running your company's operations when utility lines fail.
Units conduct self diagnosis every week and display alerts about its status.
Fuel autonomy to last several days or weeks of operation.
Allows you to normally operate your home or business including use of internet, heating and air conditioning, TV, etc.
They can be sized to turn on your entire house or building or just the critical portion that is most important.
Automatically disconnect your house or building from the utility lines when power fail. Isolating you from the utility during power failure protects you and your electronic devices from violent power surges, spikes, and brownouts.
When power returns, generator does not transfer to the utility until the voltage has stabilized, protecting from dangerous surges and voltage fluctuation when power is first turned on.
They are permanently installed. No need to run extension cords and set up your unit in the middle of a storm or  other natural disasters. 
Safe operation during storms or man made disasters. No need to improvise a backup energy solution during an actual emergency.
Afford you piece of mind by ensuring that your loved ones, and the things important to you are well protected during times of emergencies.
Allow you to remain at home and in familial surroundings during a storm or extended power outage, rather than fleeing to a hotel which may not be available as they too may be out of power, or full.
   Click here to learn more about generator installation process.
Standby Generators Disadvanges
Standby generators are more expensive to buy and to install.
These units require longer time for installation.
Permitting process may delay installation.
Installation requires planning.
They require yearly maintenance, which adds to your budget.
They are permanently installed, which makes it difficult to take with you if you move.
We Sell, Service, Install, Repair All Brands of Generators. Look Below For List Of Generators We Service. These are The Best Brands Of Generators
One big standby generator advantage is that there are some great manufacturers whose product have been in the market for many years and have performed very well. Furthermore, these manufactures continue to support their product with spare parts and technical support. This means that you can enjoy the benefits of this product for years to come.
We represent and are certified by some of the greatest generator manufacturers in the world, including Generac, General Electric, Briggs and Stratton, Kohler, Onan, Cummins, Tradewinds, and other.
We sell, install, and service all the brands of generators listed below. Click here to order, install, service, repair, or fix your standby generator now!
ACM

AKSA

ALL POWER

ALLIS CHAMLERS

ASCO

BALDOR

BRIGGS & STRATTON

BROAD CROWN

CATERPILLAR

CLARK

COLMAN

CUMMINS

CUTTLER HAMMER

DAYTON

DETROIT DIESEL

DMT

EATON

EM

EMPIRE

F.G. WILSON

GENERAC

GILLETTE

JRS

KATOLITE

KILOPAK




KOHLER

LAKESHORE

MAGNAMAX

MAGNETEK

MAGNUM

MELLEY

MTU

OLYMPIAN

ONAN

POWER TECH

PRYCO

PTI

RUSSELECTRIC

SDMO

SPECTRUM

STATELINE

SUPERIOR

SYNERGY

THOMPSON

TRADEWINDS

TRAMONT

TRITON

WACKER

WESTINGHOUSE

WINCO

WINPOWER

ZENITH
Generac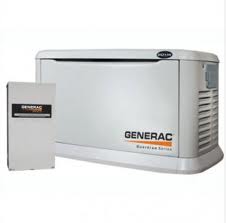 Click This Image To Buy A Generac Generator
Generac is one of the leaders in the manufacturing and sale of standby generators.  They offer a wide range of standby generators.  You can pick from a small air cooled 7KW generator to a very large unit suitable for industrial applications. For most residential applications you will do well to consider the air cooled standby generators. If you feel your application needs a more robust generator, then you ought to opt for a liquid cooled unit.
Generac has the Guardian series which includes 8KW, 10KW, 14KW, 17KW, 20KW, 25KW, 30KW, 45KW, and 60KW. They also have the QuiteSource series which includes the 22KW, 27KW, 36KW, and 48KW machines.  I personally recommend these generators over the Guardian Series units.  They are so much more powerful and robust, there is no comparison.
Generac is especially good with training and certifying their technicians, and very good with parts.  You can order these generators with confidence, knowing that you will not be left with a unit that cannot be serviced. Their transfer switches are also very good, and do an adequate job at handling their task.  Their price is affordable and the performance is good.
Click here if you wish to purchase a new electric standby generator from Generac
Briggs and Stratton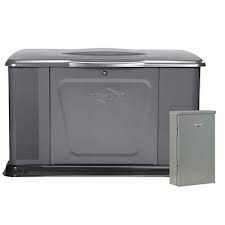 Click Here If You Want To Buy A Briggs And Stratton Standby Generator
Briggs and Stratton produce a very good generator.  Their engines are superb, and are very easy to install, repair, and maintain. They are a relatively new player in the standby generator market, but they bring lots of great technology with them.
One thing I love about their standby generator program is their transfer switch technology.  They really have a great load control program.  Load control is the technology that allows generators to know when they are carrying too much load.  Through their transfer switch, they are able to disconnect certain large loads for a discrete amount of time. Sometimes they may disconnect your stove for a few milliseconds, and you don't even notice, but it allows the generator to work well within its factory parameters, not exceeding its capacity or rating.
If you wish to buy a new Briggs and Stratton standby generator click here
Kohler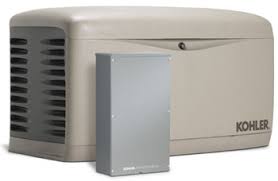 Click Here If You Want To Buy A New Kohler Standby Generator
Kohler produces a very robust and quiet standby generator.  These units run very smoothly, and are extremely reliable.  I am not too fond of their transfer switches, since the basic units lack the capability to do load control.  Then transfer switches that have this capability are very expensive.
If you are in the market to obtain a Kohler generator, and need a certified technician to provide it, install it and service it, we will happy honored to be chosen to do this project for you
If you need a new propane/natural gas standby generator from Kohler click here
General Electric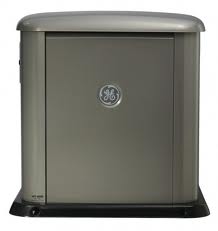 Click Here If You Want To Buy A New GE Standby Generator
General Electric produces a generator which is an upgrade of an already good system.  General Electric's generators are manufactured by Briggs and Stratton. These are very sophisticated generators, that come with a very strong warranty program.
As I said before, these units are an upgrade from the Briggs and Stratton generators. I want to emphasize that Briggs and Stratton already builds a very good generator, therefore, GE units are just superb.  You will be happy owning one.
Click here to buy a new General Electric standby generator.
(800)779-3848