Portable Generator
(800)779-3848
Power Your Entire House With A Portable Generator
Did you know it is entirely possible to use a portable generator to power your whole house for a fraction of a cost of a standby generator? Read on to learn more about it:
By converting your existing electrical panel into a transfer switch, we can connect a portable generator to it and provide power for the whole house.
We are able to do a complete installation job in less than a day.
Click here to request this service start enjoying the convenience of a whole house generator for less than half its cost.
Are you looking for a portable generator? RCS Electric specializes in the repair, maintenance, installation and sales of new and used portable generators. 
Click here to request portable generator sales, repair, installation, or service.
Call us, we can help with all your generator needs.
Click here to start the process to order your new generator
Click here for portable generator sales installation repair and service
We Have a Variety of Portable Generators
RCS Electric represents most of the great American manufacturers of generators.  When you buy from us, you also have access to our technicians, which could be handy when you need service, maintenance, or repairs.
If you already have a portable generator, or any other kind of generators, let us know if you need service.  We service all brands of portable and standby generators.
If you are interested in buying a portable generator, please read below to learn about the product we represent.
Generac Portable Generator
Generac has a great variety of portable generators, please look at this selection.
If you are looking for a portable generator to power your house in case of emergency, I recommend that  you purchase at least an 8kw generator.
Be aware that even a small generator such as an 8kw one, can power your entire house, except for large loads such as an a/c, stove, or water heater. Ask us how we power your entire house with a small portable generator. Look below at your choices for Generac portable generators.

This is a 15000 portable generator made by Generac. It is a very strong unit, that can be used to power your entire home if you live in a regular three bedroom house or a small four bedroom one.
Your generator technicain at RCS can connect this generator to your electrical panel through a transfer switch, and energize your entire home this way. During an emergency, you will feel secure in the knoweldge that your refrigerator, air conditioning, and kitchen can continue to work as if the electrical power lines were continuing to work.
An interesting observation about this unit is that for a fraction of the cost of a stanby generator, this unit can go to work for you and give you almost the same level of service.
Call our office for more detail.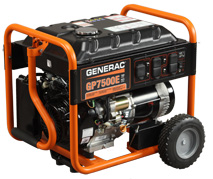 This 7000 watt portable generator is another great unit made by Generac. It cost a lot less than the bigger 15000 machine shown above, but it's a hard worker. At 7000 it can power all of your lighting at home, plus operate your kitchen including refrigerator, stove, etc.  It is just not powerful enough to operate your central air conditioning system.  We at RCS Electric, can fit this unit to your electrical panel through a transfer switch.  This way it can distribute power to your entire home.  Please call us for more details in terms of what this unit can do.
Briggs and Stratton Portable Generator
Briggs and Stratton has earned a reputation for building robust and reliable small engines. These generators are no exceptions.  You will be satisfied with their performance, as they will give you a long service life.  As with all mechanical machines, don't forget about maintenance. Your generator should be tuned and maintained every year. This will afford you a unit that will be ready to work when you press it into action.
One of the generators below could be a great fit for your application.  Check them out, and call us if you have questions regarding any of these units.
This Briggs and Stratton 10000 watts portable generator is just a work horse. And it has all the right features. It has electric start, durable overhead valve engine, and large tank capacity for extended use. It also has low oil pressure, high temperture, and low voltage alarms. All these features give you a very dependable unit that will give you service for many years. Call and learn more about this unit.
Don't forget that we can fit this unit to hour home, so that it works almostas a standby generator.  It can power almost your entire house. It may be able to run small central air conditioning units.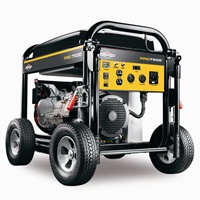 This Briggs and Stratton 7500 watt portable generator is a great piece of equipment to own during a storm. If you don't want to invest in a standby generator, this unit can be fitted by us to your main electrical panel. This generator can power almost your entire house if you are careful with your power use.  We have a technology that can convert your existing electrical panel into a transfer switch. Then we connect this generator to your panel and your entire house can be energized by this machine during a storm power outage.
This unit comes standard with electric start, overhead valve technology, and digital controls that allow you to see when you need maintenance, oil, etc. It also lets you know how much power your are producing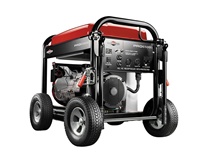 This Briggs and Stratton 6500 watt portable generator can be a great companion during a power outage. This unit also comes with electric start. No more pulling on that rope.
How to Buy These Generators
If you decide to buy one of the generators here, just call our office and we will take care of you.
If you have questions about these units, and can decide what to do, call us and we will help you. We have ways to connect these units to your home, in a way that will power your entire house.  Ask how we can do this for you.

Portable Generator Repair
Click here if your portable generator needs repair
Call the number below for all your generator needs
(800)779-3848